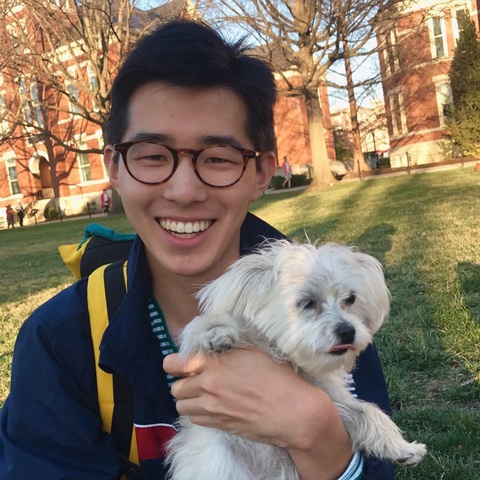 The Sean Wu Memorial Scholarships, created in 2018, are named in honor of Sean Wu, a University of Iowa student from 2016—2017. Sean was in the Honors Program at the University as a freshman majoring in English and Pre-Business. He was a Black and Gold Scholar and was on the Dean's List.
Sean was a beloved member of Bijou Film Board and FilmScene, as well as a DJ at KRUI Radio, where he helped host a weekly radio show and podcast called Bijou Banter. He also served as Vice President of the Associated Daum Residence Hall.
Sean was warm and humorous with knack for funny puns and jokes. He will be remembered for his love of the cinematic arts, modern alternative music, and making and keeping people happy.
Sean was a beloved member of two organizations, KRUI 89.7 FM, and the Bijou/FilmScene partnership. Both were important to Sean and areas where he devoted a great deal of time. These awards are just one way to keep Sean's memory alive.
Sean Wu, DJ Scoot Memorial Scholarship
Creativity. Authenticity. Dedication. It is by these three words that Sean Wu grew KRUI during his time with us and it is by these three words that we honor his memory still. Sean, or "DJ Scoot" as we knew him over the air, served KRUI for a year. During that time he produced show after show of high quality and assisted in the operations of not only his department but the station as a whole. This scholarship, in memory of Sean, afforded by the immense gratitude of his family, is presented in order to honor a KRUI staff member who, like our DJ Scoot, expressed creativity, lived authentically, and served with dedication to Iowa City's Sound Alternative.
Sean Wu Scholarship Outstanding Student of the Year
Sean Wu was the embodiment of what any organization would hope for in a member.  For the Bijou and FilmScene, he was consistently passionate, positive, and full of energy.  He was among the first to step up for work that needed to be done and the first to offer his support for other members in completing their tasks.  He exuded an enthusiasm for cinema that was infectious to all of those around him. Sean was also a person who cared for others, whether that be asking how you were or being interested in what you were doing. If he spotted you anywhere in town or on campus, he'd make it a point to wave at you or say hello. He had a unique ability to find the good all around him.  His impact on Bijou and FilmScene and the example he provided lives on. We are also deeply grateful to his family for creating this scholarship, so that other students who love cinema and life as Sean did, can have the opportunity to spend even more time being part of something they love.
It is with Sean's example in mind, and in his memory that we carefully consider the attributes of the recipient for this scholarship created in his honor.
Scholarship recipients
Sal Goedken (2017-2018)
Emily Stagman (2018-2019)
Harry Westergard (2020-2021)
Orson Codd (2021-2022)