Awards Presented at the Hancher-Finkbine Dinner
Hancher-Finkbine Medallion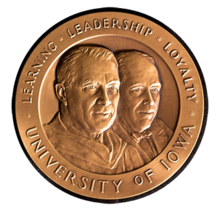 Through the generosity of Hands of Iowa City and The University of Iowa Center for Advancement, medallions are now awarded to four students, a professor, and a member of the alumni family each year. Women and men are equally eligible to receive this symbol of the University's highest esteem.
Distinguished Student Leader Award
The Distinguished Student Leader Awards are selected by the Hancher-Finkbine Dinner Committee to recognize students who have exhibited meritorious qualities in learning, leadership and loyalty. Recipients are nominated by student organizations and collegiate deans. Established in 1980, recipients include both undergraduate and graduate students.